Footballing Gods
When it comes to pre-season I don't put much stock on the results as an indicator for the league games. That being said, we were pretty amazing during our friendly matches.
Okay ignoring the Notts Co and Blackburn results, we were pretty amazing.  Maja and Nelson were banging them in for fun. This young striking partnership will bring us League One glory.
Tactics
I've made no changes to the stock 4-4-2 Wide Wing Play tactic. It's a tactic I have used to great success in the past and wanted to see if I could relive some of those glory days.  
I also figured that in League One two up front would be the way to go.  Having never played in the league I anticipate slightly more robust defending and could see a lone striker getting knocked around a bit and may need the support.  I also think we could make use of the superior team we have, in comparison to the rest of the league.  I want to see the team dominate with attractive football and good old fashioned wing play.
As the results show, it seems to suit them, a little concerned about the goals conceded but once the defence get settled in that should be remedied.
New Signings
Mid Pre-Season saw the arrival of Nigel Re-Coker and Brad Carr. I also said this:
I have decided to get that left back and scout for a new goalkeeper, spend a decent fee for both and then dump the rest of the £4 million transfer budget in to balancing the wages
Here's what actually happened:
Everyone above Nigel Reo-Coker is the fault of the previous manager.  From big Nige down I take full responsibility for.
None of these signingns is a goalkeeper or a left back, here's my revised thoughts on recruitment – formed AFTER trying to bring players in.
A lot of the players my scouts are coming up with have wages in the region of £18,000-£20,000.  For League One that's too high in my opinion.  But then if I want to get promotion and then complete in the Championship I'll need to think more long term.  But does that risk the financial future of the club?
Let's discuss the elephant in the room.  Yes, that is Peter Crouch.  I blame his podcast for the signing (check it out That Peter Crouch Podcast).  Part of me did think he could do a job at this level. But to be 100% honest, I just wanted to say I'd signed Peter Crouch and was hoping to see the robot celebration during a match.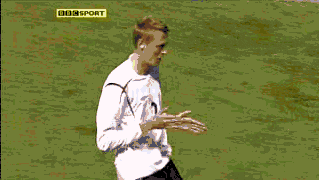 The rest of the signings were basically me weilding the mighty Sunderland wealth (for the league) and bringing in youngsters in the hope they would form a core of players that would bring us future success.  That remains to be seen.
Conclusion
Peter Crouch only cost £96,000, but his wages of £12,500 per week were probably a luxury we could do without.
Beyond that, it is evident that I am useless at sticking to a plan.